Watch the video explainer now
Are you looking for a tuition centre that provides both Physical and Online tuition class? Look no further!
AGrader's High-quality lessons has proven to be every parent's choice of learning centre.
​
Through the years, THOUSANDS of satisfied parents & students have given us the "thumbs up" & "5 stars" on various platforms like our Facebook & Google pages.
You are just one click away from our AMAZING deal!
Hurry up before the deal ends
The New Normal | Physical and Online Tuition | AGrader Learning Centre
Hi Parents,
In this "New Normal", we've implemented an innovative
procedure to wire our classrooms and virtually "tether" (live-stream) our high quality classroom lessons straight to your home.
HIGH QUALITY LESSONS . IN YOUR HOME
Experience AGrader's high quality classroom lessons right from the convenience of your home with Live-Streamed lessons, as there will be both Classroom (Onsite) and Live-Stream (Online) students for all AGrader classes at all locations.
​
Classroom and Live-Stream students will be able to interact with one another, see exactly the same thing at the same time, and teachers will be able to engage both audiences seamlessly.
Students tuning in from home can also see the classroom from a camera installed at the back of the room.
Students can also now choose to attend any of the time-slots in all outlets or "live" from home at the exact same timing.
We've prepared an informative deck of information to explain the situation & our approach, please click on the button below to read more
All Your Current and Upcoming Lessons
[GUIDE]

How to Upload &

Submit
Homework For Marking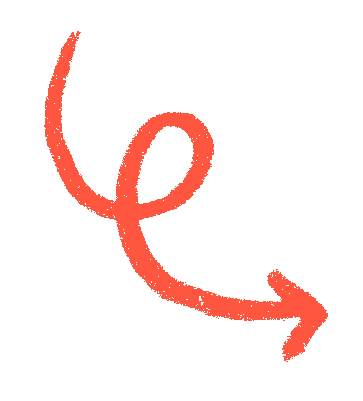 Frequently Asked Questions
New Normal
What is the schedule for the Live-Streamed Classes like?
---
The Live-Streamed Classes are the same classes as the original lesson timings.
For Existing students - you will return to your original AGrader class like it was before commencement of Circuit Breaker. The only difference now is that you'd have the option of either attending physical lessons or live-streaming the physical lesson from home.
For New Students – you can choose from schedules from all of AGrader's outlets.
Following the latest industry-specific government regulations, AGrader has made some changes to the original class timings to accommodate for the mandatory safety requirements set in place (30 minute interval break between classes)
The team is still in the midst of finalizing the class schedule timing changes and your respective outlet representatives will be updating you as soon as the schedule is finalized.
---
How are the Live-Streamed Lessons conducted?
---
ONE Class, TWO "Channels" to Learn.
🎥

[Classrooms Live-Streaming]

At AGrader, we have implemented an innovative procedure to virtually tether (live-stream) our lessons from our physical classrooms right to your home. An infographic is attached below for your easy understanding. Projecting our SMARTBoard screens from our classrooms to your home in real time with the best learning technologies: 💻Our Classrooms are all fitted with SMARTBoards & Projectors
👩‍💻 Zoom and its "Share Screen" function
🎤 Wireless Microphones
📷 HD 1080p enabled web-cameras installed at the back of every classroom

Both platforms (physical and online) will be carried out concurrently, ensuring that students in the physical classroom and those live-streaming the lesson via Zoom are taught exactly the same content, at the same time, by the same teacher.

------------ ❗ If you'd like to opt-in for this 100% Online Lessons, please fill in the form here: https://forms.gle/7kA9BJ3iKFJX81kL8 📄 Hard copies of the worksheets will be provided and will be mailed to you at NO additional cost. 💵 Enjoy 10% OFF your tuition fees when you opt for 100% online lessons!

Worksheets will be mailed in advance so your child will be well equipped to attend the weekly lessons.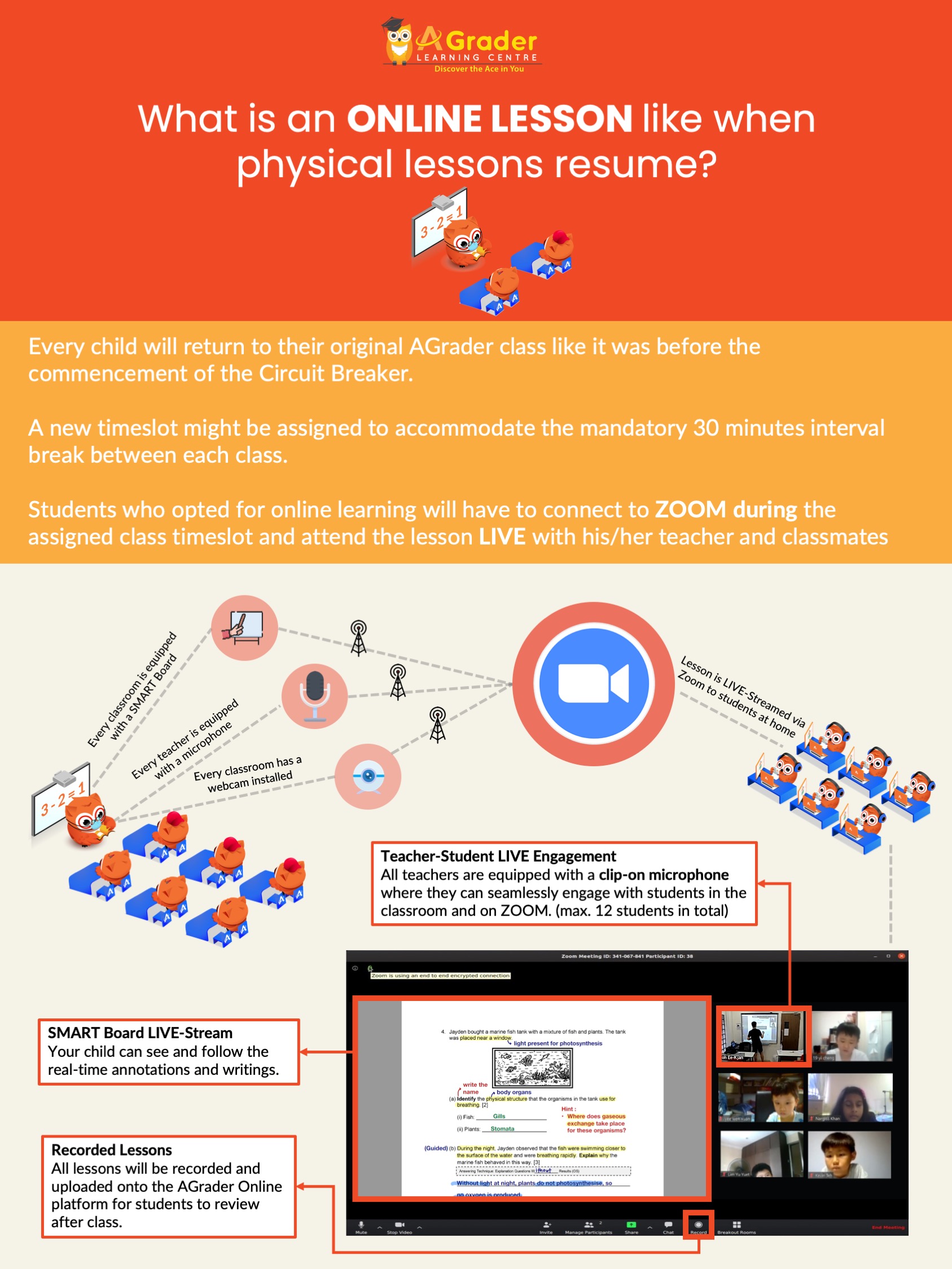 ---
What happens if I miss my lesson? Are there make-up lessons or are recordings available?
---
Make-up Lessons - As like before, you may reach out to our friendly outlet representatives to arrange for a make-up class within the same week provided that:a. there is more than 1 class of the same level and subject within that Centre;b. there is a vacancy in the class that that the student intends to attend as the make-up class
Recordings - All lessons will be recorded (with a 90% uptime disclaimer), and will be available for rewatching at the Centres' premises.
Book an appointment here: www.agrader.sg/appt, come down, sign out a tablet device and watch the recordings unlimited # of times.
---
I feel that it is still unsafe to resume lessons in-person. What are my options?
---
At AGrader, we are able to offer you the options of either attending physical lessons at the centre, or live-streaming the actual lessons from your home in real-time, by the same teacher at the exact same time. Class sizes are always capped at a maximum of 12 regardless of whether you're joining as a live-streaming student or physical student. Here's how it works:
---
How does the AGrader Digital Transformation affect me?
---
There are many things now available for you as an AGrader student through digital transformation as AGrader endeavours to do its best for you as always. Here is what's different for you:
---
I want all my lessons to be physical and I don't want to rotate.
---
We regret to inform that we will not be able to accommodate requests for all lessons to be on physical classroom platform in classes where the number of students exceeds the permitted class capacity. This is a government industry-specific imposed parametre and is out of our control. As we go through these difficult times doing the best we can, we need the collective effort of all parents and students to exercise social responsibility so that we can all stay safe.
---
---
Measures Taken
What measures is AGrader taking to ensure the safety of its students?
---
---
(Aug 2020) Why is the maximum class size now 9 to 10 and no longer 6?
---
We have rearranged our classroom furniture configuration in alignment to the prevailing Government's safe distancing measures. Students will be organised in groups of up to 5, with strictly no physical interaction or intermingling between different groups. A minimum space of 1 metre between groups will be maintained at all time.
---
---
Administrative
I am unable to commit to my original timeslot. May I change to another timeslot?
---
To change to another timeslot, you must first consider alternative timings. All class schedules can be found here: https://www.agrader.sg/fees If you have an alternative timing in mind, please contact our centre's representatives so we can check on the availability in time-slots for you.
---
Can I know if the 100% Live-Streamed class offering will be permanent?
---
Yes, our 100% Live-Streamed Class will be a permanent offering alongside our Physical Class offering.
Students will now be able to choose to attend our AGrader Lessons either at the AGrader premises or from the comfort of their homes.
---
What if I'll like to change back to Physical lessons after trying out the 100% Live-Streamed Class?
---
In every class, there is already a slot reserved for you no matter what medium you choose to take up. If you'd like to attend the lessons physically, please first note the branch location that you're enrolled in as lessons will be conducted at the branch itself.
You may then approach our friendly outlet representatives at your respective outlet and they will assist to advise you accordingly for the arrangements.
---
Why are recordings not made available on the AGrader Online Platform?
---
To protect the privacy and interests of our teachers and to ensure that no illegal recordings of our lessons is made and resold, we will not be able to avail recordings of our lessons on the AGrader Online Platform. To help students improve, we would also need to instill discipline in students to attend a lesson "Live" in real time instead of watching a recording, as we would need to encourage participation and observation on the teacher's end, which can only be done "Live" and not over a recording. If there is the need to rewatch the lesson for sake of plugging learning gaps, as well as for make-up lessons, recordings will still be available for watching at the centres. AGrader has invested in extra chairs, tablets and headphones so your child can come for unlimited # of revision sessions. To book a session, click here: www.agrader.sg/appt
---
Why isn't my invoice pro-rated or adjusted instantly for live-streamed lessons?
---
Administratively, we need time to bill the correct amount to the correct family for the correct items and at an appropriate time. At the moment, we are experiencing an unprecedented high volume of changes in family arrangements (example below), and as we endeavour to do our very best for every family, we seek your understanding that for live-streamed and rotational arrangements that we will be handling the billing via the credit note system in your following month's bill. Example of changes: #1 - Student A opts for Classroom lessons on Tuesday (no changes to invoice) #2 - Student A opts for Live-Streamed lessons on Wednesday afternoon (change #1 required) #3 - Student A changes her mind and wants Classroom lessons again on Wednesday night (change #2 required) #4 - Student A wants to add another subject, purely Live-Streamed on Thursday (change/addition #3 required) #5 - Student A's classes cannot be purely classroom lessons now because other students in the centre has switched to her class' timeslot, and is now on rotational basis (change #4 required) As you can see, the more changes required, the more permutations and errors might occur. We truly seek your understanding as we try our level best to have the arrangements as smooth for you as possible, but because we're dealing with an unprecedented number of requests & changes, we seek your understanding that the best method administratively will be to apportion a credit note in your following month's bill.
---
---
Live-Streamed Lessons
How do my teacher mark my worksheet when i'm 100% Live-Streaming the lessons?
---
You would have to upload your worksheets on the AGrader Online Platform, and your teacher will mark and return it to you via the "Inbox" function on the platform. A video guide on how to upload your worksheets in soft copy is here: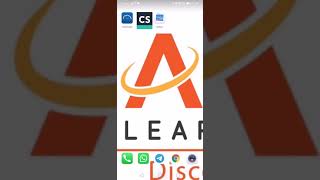 An infographic is here:
---
How do I get my Bonus Bucks when i'm attending 100% Live-Streamed Lessons?
---
For Online Lessons, we will be assigning Points to you instead of Bonus Bucks. 10 points can be exchanged for 1 Bonus Buck at the AGrader Learning Centre you're enrolled in. Points will be allocated to you on every 3rd to 4th week of the academic month, and not after every lesson as we need time administratively to allocate points.
---
---